Eating right is one of the best things you can do for self-care. As someone who has recovered from anorexia, I understand this is easier said than done. Eating disorders can loom over your life like the ever-changing cycles of the moon. The only way I was able to overcome it was by learning how to make healthier choices and enjoying delicious food. Proper nutrition has always been one of the three fundamental pillars of good health, along with sleep and exercise. In the past, nutritionists were often perceived as bland professionals whom you would consult after experiencing a heart attack or dealing with weight issues at school. There was nothing exciting or interesting about healthy eating until Whole Foods crossed paths with Julia Childs in the late 1980s. Today, in our health-conscious world, nutrition is one of the fastest-growing careers, and nutritionists like Peggy "K" Kotsopoulos are revolutionizing the field by transforming nutritious foods into mouthwatering recipes that even her three boys prefer over a bag of chips.

Peggy Kotsopoulos, our first "Tsavorite Mom" in the new podcast series, embodies beauty, warmth, and vitality while living with a green heart. Growing up in a Greek household where she cooked alongside her mother and grandmother, Peggy quickly realized that certain foods triggered specific reactions in her body. For instance, strawberries made her face tingle. Like a scientist conducting experiments in her kitchen lab, she spent her formative years discovering how foods negatively and positively impacted her health. After a lifetime of experimenting with recipes, she compiled her findings into an award-winning cookbook that promotes healthy eating and makes it practical, delicious, and enjoyable for the entire family.

If you can't wait to try out this recipe like us, the great news is you don't have to. Peggy shared some of her favourite recipes, including Chocolate Chip Quinoa Cookies, with us here
Must Have Been Something I Ate was published in 2011 and became an instant best seller.  Peggy's 2nd best-selling book Kitchen Cures: Revolutionize Your Health With Foods That Heal, was published in 2013. Listen to our latest episode to hear Peggy's story, her secrets and one of her 'green sins' as she shares her journey into healthy living through food.  
And thanks for listening. Please share it with all your friends! Gay 💚x
Peggy K's Best-Selling Books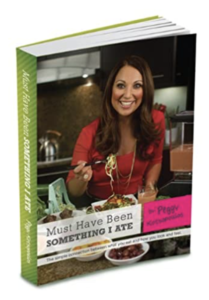 Must Have Been Something I Ate
In Peggy Kotsopoulos s debut holistic nutrition guide Must Have Been Something I Ate this Greek goddess spins salads into PMS cures, turns oatmeal into a sleep aid and transforms squash into pasta.
This is not just another eat-your-greens and you need boring food to feel a good cookbook. Hilarious and educational, this one-of-a-kind companion gets real.
Kitchen Cures
Kitchen Cures is your complete solutions guide that links what you eat to how you look and feel. It shows you just how easy it is to alleviate common health complaints through nutrient-dense and delicious whole foods—without having to overhaul your entire diet!
Whether you lack energy or libido, have excess belly fat, tummy troubles, or joint pain, or are suffering from other health issues, Kitchen Cures offers simple and easy-to-implement solutions to relieve whatever ails you.